Learning doesn't have to be boring or full of uninteresting facts, but it can be difficult to present intriguing findings in a fun or attention-grabbing way. That's why we think whoever invented infographics was truly a genius. Not only do you get information that makes you go "huh", but you're also usually left with curiosity about how that data came to be. Satisfying that curiosity drives us to go further and learn even more, but it's also fun to leave it as a mystery. In that same vein, maps don't always have to be about geography, and they don't have to be boring! We've prepared a list of eye-opening and surprising maps of the United States of America, from each state's favorite snack to pregnancy rates. Happy learning!
#1: Not So United After All?
Every place has something they're known for, and that's certainly true for the individual states in the U.S. Wisconsin has its cheese, Kansas is well-known for how flat it is – but not all of these reasons why a state is famous – or in this case, infamous – are straightforward and logical.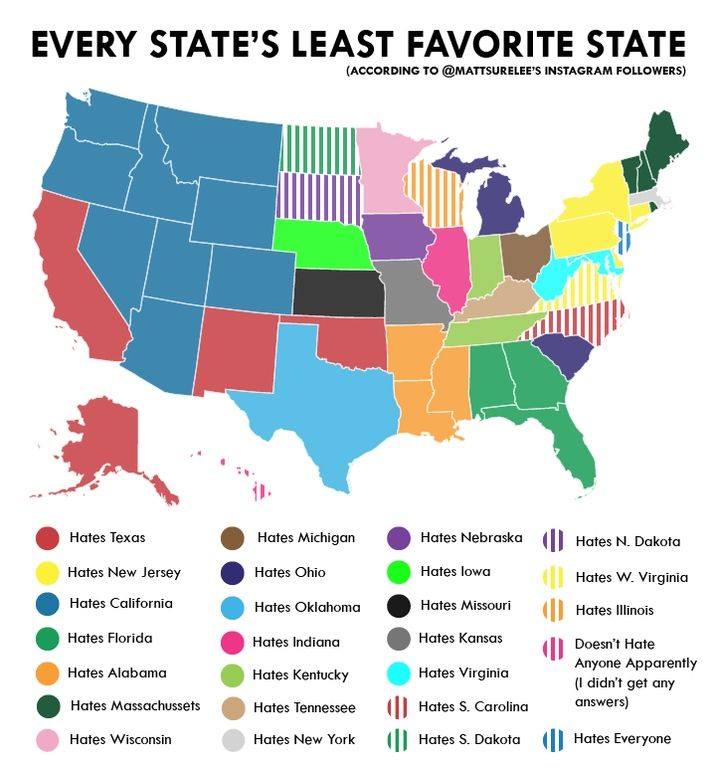 This map shows us which states hate other states, but it doesn't tell us why, so speculation is part of the fun! We're not entirely sure why California gets so much hate from its West Coast and Central American neighbors – maybe it has something to do with their obsession with avocado toast?