Admittedly, our favorite time of year is when we can pop out to our garden and harvest a basketful of vegetables for an upcoming meal or snack. Or if you aren't into gardening, but are super into homegrown veggies, perhaps you're here because your favorite time of the year is when you can stock up at the farmer's market. Either way, an ample amount of vegetables can be a little overwhelming, but we're here to help with just a few of our favorite garden vegetable recipes that will use up all of those delicious, crunchy, homegrown vegetables. Let's get started!
Toasted Garden Vegetable Sandwiches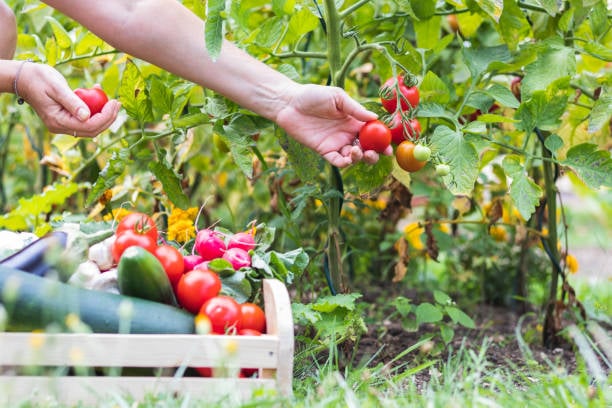 Okay, this is a super simple meal idea that makes for a great lunch or even dinner, and it also serves as a great way to use up any veggies you may have lying around. All you'll do is toast a couple of pieces of your favorite bread, spread some garlic and chive cream cheese on your toasted bread, lay down your favorite meats and cheeses, then stack all of your favorite garden vegetables on your sandwich; we're talking sliced cucumbers, tomatoes, crunchy lettuce, onion, peppers, whatever you like, and enjoy.
Cucumber Onion Salad
If you find yourself with a surplus of onions and cucumbers, we have a simple (and delicious) solution: cucumber onion salad with a sweet vinegar dressing. It's cold, it's crunchy, it's tart, it's sweet, it's the perfect summer side dish and the best way to use up garden cucumbers. Get the full recipe here!
Roasted Parmesan Green Beans
There are a ton of different ways you can prepare garden fresh green beans, but these roasted parmesan green beans are by far our favorite. This side dish is crunchy, crisp, fresh, and full of parmesan goodness that tastes absolutely divine with roasted chicken and garden-fresh red potatoes. Get the full recipe here!
Garden Vegetable Lasagna
Broccoli, carrots, garlic, onion, spinach, squash, and zucchini, oh my! Garden vegetable lasagna is an incredible option if you're committed to meatless Mondays or you just have a surplus of veggies. And don't worry, you can absolutely substitute any vegetables you don't particularly enjoy or have on hand. Hot, fresh, cheesy, and packed with homegrown goodness, this garden veggie lasagna is sure to please any and all veggie lovers. Get the full recipe here!
Four-Cheese Garden Frittata
If you love to entertain in the form of hosting brunch or you're a huge fan of breakfast for dinner, this cheesy garden veggie frittata needs to be added to your rotation. Not only will you keep this dish fresh with asparagus, spinach, chives, dill, green onion, grape tomatoes, mint, and parsley; but you will also be incorporating the rich flavors of cream cheese, goat cheese, mozzarella, and parmesan. Get the full recipe here!