Guests on the way? While you could start panicking about all the things your humble abode is not, instead focus on adding a few creature comforts to help your guests settle in. I urge you to fret not; here are a few easy tips and tricks to make hosting your next guest a breeze.
Clean Sheets and Extra Pillows
This should go without saying, but first things first to make a guest comfortable – clean bedding. If the bed hasn't been slept in for a few months (but had clean sheets), it is still a good idea to at least run the sheets through the dryer or hang them on the clothesline (weather permitting) for a quick freshen up. The same goes for your quilt or comforter. And don't overlook extra pillows. If you can, have a couple of extras on hand (complete with pillow covers AND pillowcases) to make sure your guest has what he or she needs to snuggle in for a decent night's slumber.
Fresh Towels
Fresh towels are a must. Ideally, you would leave a freshly laundered body towel, hand towel, and washcloth folded and sitting on the corner of the bed or sleeping quarters when your guest arrives. If you are short on space, perhaps you can designate a spot in the bathroom for linens so he or she doesn't have to go on a hunt.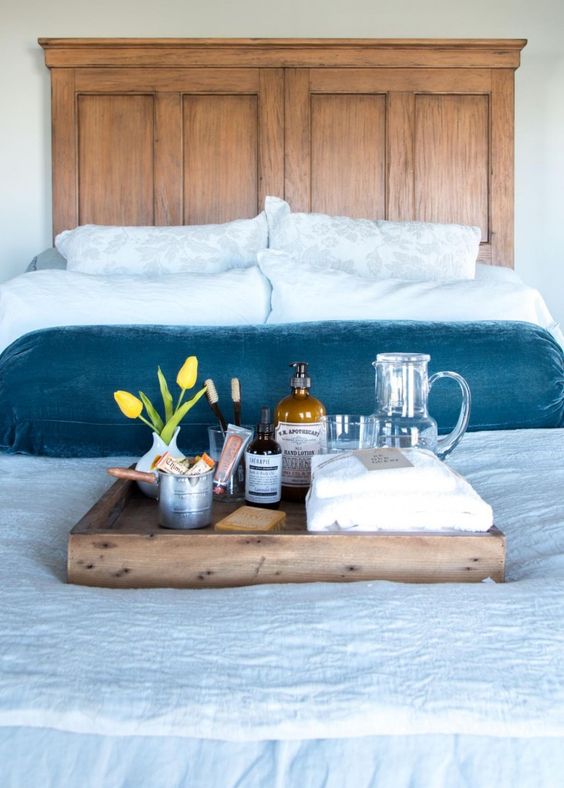 Spare Toiletries
Just a couple of things on hand can make a world of difference to your weary traveler. It doesn't have to be a full spread, but a new spare toothbrush, toothpaste, some floss, and maybe contact solution will be priceless to your guest if they forgot their own. They will be relieved to know they don't have to run out to the local drug store to replace their forgotten items.
Hangers and Closet Space
Depending on the length of the stay, it is nice to create a little space for your guest's clothes. Not much space is necessary, but a couple of hangars in a closet and a little breathing room to hang things go a long way. If a closet isn't available, considering making a single drawer available. If you really want to go above and beyond, tuck a little luggage rack in the room so your guest doesn't have to rifle through their bags from the floor.
Wifi and Password
Don't make your guest ask! Leave the wifi network name and password on a notecard near your guest's sleeping quarters. This way they don't have to burn through their data to fall asleep to Netflix.
Just a couple of small, personal touches will leave your guest feeling welcomed and at home!