Pumpkin carving is one of those things that sound really fun, but then ten minutes into it when there are pumpkin guts all over the floor, all over every surface somehow, all over the dog, and at least one family member is refusing to touch the pumpkin altogether because the guts squished between their fingers and they hated it, it actually doesn't seem worth it anymore. But we're here to make pumpkin carving easy and fun and you'll be sorry you didn't learn these hacks sooner. Let's get started! 
Instead of using a Sharpie marker to draw the outline of your design, use a dry-erase marker instead. We all make mistakes but a permanent marker isn't the tool to do that with, it's an erasable marker you want.
Are you still cutting the top off of your pumpkin? That is so 2021. Okay, we just learned this hack too, but you should definitely start cutting the bottom off of your pumpkin instead. Why? Because then you can set your tea candle on a windowsill or the ground and set your pumpkin on top of the candle rather than having your candle sit on the inside of an uneven pumpkin.
When it comes to scooping the guts out, use an ice cream scoop. This is a tool designed for scooping and the edges will ensure a clean scrape as you go.
Opt to use cookie cutters to create perfect shapes and/or letters. It helps to use those sharp edges of your ice cream scoop to thin the walls of the pumpkin first, then the cookie-cutter shapes can be punched out much easier. With the use of a mallet, of course.
Switch out the candle for fairy lights. Same effect, none of the heat.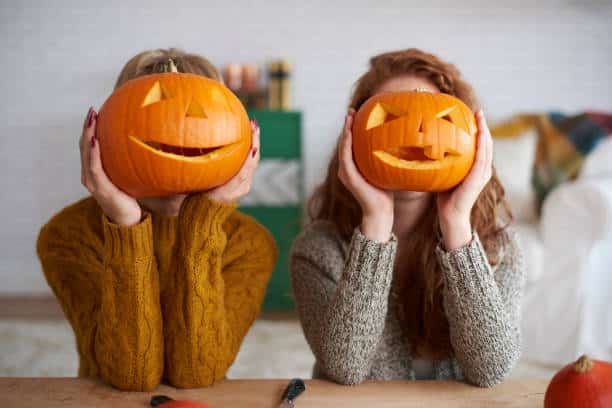 If you want to do something with a hollowed-out pumpkin, but aren't really feeling a classic jack-o-lantern, consider using your pumpkin as a vase instead. Hollow out your pumpkin like you typically would, nab an autumnal bouquet at the store, cut the stems, and you've got the perfect fall centerpiece.
Make a perfectly polka-dotted pattern with a drill rather than a traditional carving. It takes next to no effort to use a drill to make holes, but the end result will be a real show-stopper.
Most importantly, make sure you don't throw away the innards of your pumpkin. Some of the most delicious snacks are made from pumpkin innards like pumpkin pancakes, pumpkin risotto, and roasted pumpkin seeds.