Arguably one of the best things about fall? Pumpkin pie. Now, we fully understand that a pumpkin pie can be made at any point during the year, but we can probably all agree that a pumpkin pie just tastes better in the fall. We've put together a few tips that will have you slinging the best pumpkin pie ever this season. Let's get started! 
Consider the Crust
Adding a little flavor to the crust of your pumpkin pie is a game changer, and this can actually be done in a number of ways. If you prefer your pie crusts to be made from scratch, add some cinnamon to the flour before making your dough. If you're looking for the easiest pie crust replacement ever, use canned cinnamon rolls. Seriously, replacing pie crust with cinnamon rolls is a little bit of heaven. And lastly, if you're a no-bake kinda pumpkin pie maker, whip up a crust made of your favorite fall cookie and melted butter.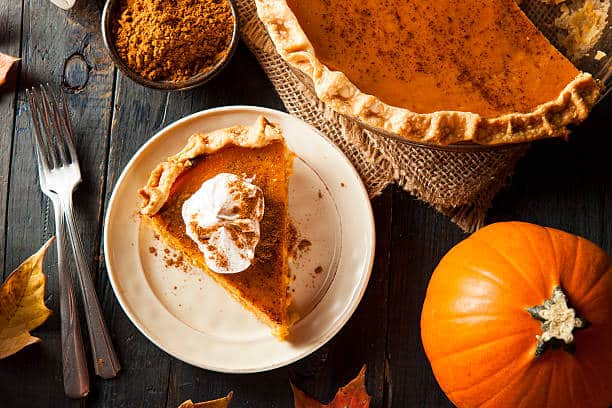 You're Golden
To achieve that glossy, golden pie crust glow, make sure to brush an egg wash on your pie before you bake it.
Canned Pumpkin is the Way to Go
Sure, we all love the idea of picking our own pie pumpkins at the pumpkin patch, but the thing is, those pumpkins are inconsistent in their moisture content and roasting time. To get a consistently delicious pumpkin pie, always opt for canned pumpkin puree.
Cover Your Crack
There's nothing we hate more than the dreaded pumpkin pie crack. To avoid this unsightly imperfection, take your pie out of the oven as soon as it just sets. That crack is a sign your pie was in the oven for too long. Worst case scenario, just slather a bunch of whipped cream on top and no one will ever even question you.
ABC: Always Be Cooking
The pie filling, that is! Cooking your filling before adding it to the pie crust you're about to bake feels a little redundant, but never skip this step. By doing this you're drawing out just a little moisture, but cooking it also blooms the spices giving you a thick and flavorful pie filling.
Pumpkin Spice and Everything Nice
If you're feeling a little extra, make your own pumpkin pie spice. By doing this you get to customize the flavor of your pie. So if you live for the taste of cinnamon, go heavy on it. Hate nutmeg? Skip it. 
Just Cool It
Pumpkin pie tastes best when it's completely set, so make sure that even though the temptation is there that you don't slice into it before it's ready. Most pies need about four hours.
Fall Flavor
Substitute half of your white sugar with brown sugar. This will give your pie a caramel taste. And yes, it tastes like a perfect fall day.