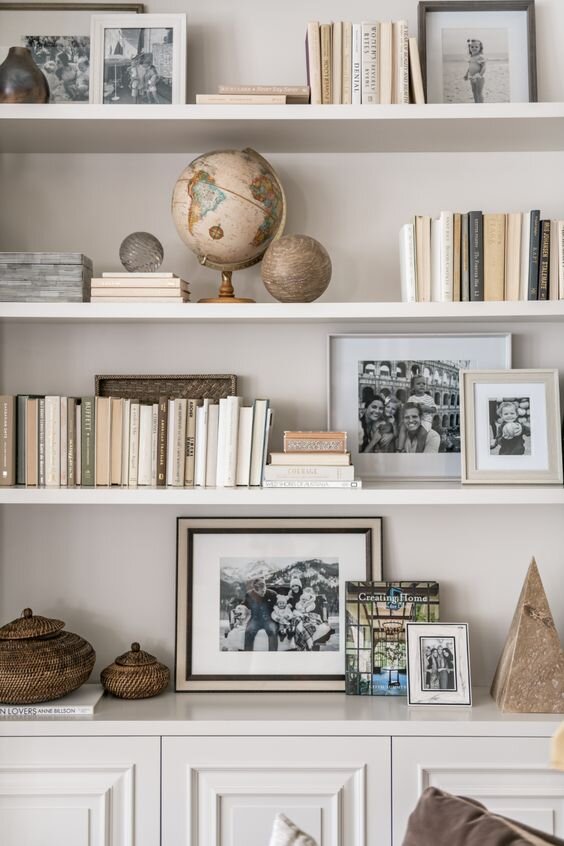 Bookshelves can be a major focal point in any room, but styling them can sometimes be a chore in itself. But we sure do love the look of one that has been perfectly executed. Whether you're a paperback girlie or hardback queen, we have tips and tricks that will ensure your bookshelves are always looking stylish. 
This first tip may sound a little crazy, but don't stuff your bookshelves full of books. We know, we know, that's kind of the point, but this will make sense as we start to add different elements. Try to narrow your book inventory down to just your favorites for your shelves.
Be on the lookout for a common color or color scheme among your books, then once you choose one be on the lookout for smaller pieces to incorporate into your shelves in that color or colors, sticking to a color scheme will be much more pleasing to the eye than seeing a bunch of different colors all at once.
As you add books, have some fun with the direction of them. For example, books, as we know them, sit vertically on bookshelves, but we say mix it up and have some horizontal book piles ready to incorporate into your shelves. You can theme your book piles by genre, color, size, whatever you like.
Create interest and dimension among your shelves by incorporating pieces of all different sizes. Now is the time to work in some small trinkets, glass pieces, art prints, dried flowers, and whatever else you like to look at on your shelves, just make sure you're playing with height, color, and size. 
If you have quite the collection of vinyl records but aren't entirely sure what to do with all of them, keep in mind that records look super cool on a bookshelf too.
Whether it's a handwritten recipe, a special family picture, or a coffee mug you bought on your family vacation, just make sure that you're incorporating pieces that have some meaning behind them.
If you've got a green thumb, bookshelves are a great forever home for plants. If you don't have a green thumb, fake plants exist too and they look just as cool. Plants not only add a natural element to your shelves, but they can clean the air around them.
Last but certainly not least, your bookshelves will never be perfect, but they should make you feel good and make you smile because that's really all that matters.