Table manners play an important role in making a good impression on someone. While most of these tips are common sense things, there are a few big ones that even we tend to forget sometimes. So whether it's a business lunch or dinner to meet the parents, follow these tips to ensure you're making a great and lasting impression.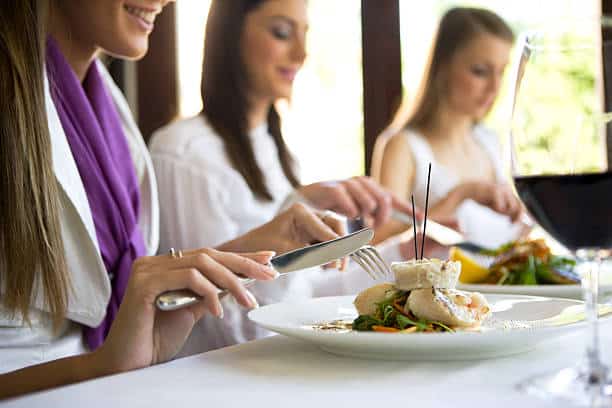 First things first arrive on time. Now, sometimes life happens and we run late for one reason or another, so if you find that this is the case, call both the restaurant (if you've made reservations) and/or whomever you're meeting at the restaurant and let them know your ETA.
Once you're seated, the first thing you'll want to do is remove your napkin from the place setting, unfold it, and put it in your lap. Now when it comes to using your napkin, you'll never wipe your mouth instead you will just simply blot the corners. But for the most part, the napkin stays in your lap, unless you're excusing yourself to go to the restroom, in which case you'll set your napkin on the table signaling you'll be returning. The number one thing to remember when it comes to napkins: they are not to be used to blow and/or wipe your nose.
When dining out, especially if you're part of a larger party, it's not uncommon for the food to come out at different times. When this does happen, make sure you don't start eating until everybody has their plate.
Always taste your food before seasoning it. Even if you just know you're going to want more salt, give it a little taste, then add the seasoning.
Even if you can guess you aren't going to like something on your plate, go ahead and give it a little try. It's okay if you end up not liking it and leaving some on your plate, but the polite thing to do is at least try a little taste.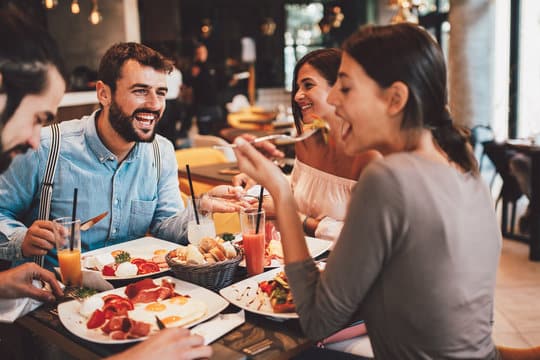 Whether you're the life of the party or you'd rather be at home watching Netflix, try to mingle and join in the light conversation. Even if you have the best stories, give everyone a chance to talk and never interrupt. 
No slurping, no burping, and no blowing your nose.
If you need to use the restroom, excuse yourself by saying "excuse me" or "I'll be right back". Most will assume you've gone to use the restroom without you confirming that.
Turn off the cell phone or put it on silent. And if you must make or take a phone call, excuse yourself from the table and step outside of the restaurant. You are the only person that needs to hear the conversation.