For some reason, open shelving can be a challenge to style. While it can be very helpful for extra storage and accessing frequently used items, at the same time it is incredibly easy to overfill making things look… cluttered. Open shelving can be a great decoration theme for your house, provided you do it right. Here are a few loose rules for styling your shelving that will hopefully help you make a statement without looking chaotic.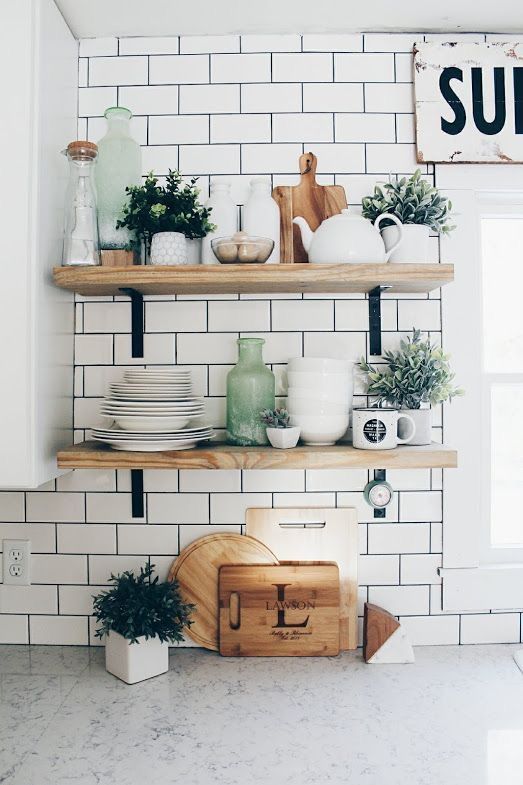 Loose rule 1: Choose things that are meaningful to you and that you would actually like to look at! It is your home and your style; make the space an authentic reflection of YOU. Framed photos, favorite books, figurines collected on travels (or that simply make you smile) are all fair game for display.
Loose rule 2: Consider painting or wallpapering the back of your shelving for some additional visual interest. For example, something as subtle as Sherwin Williams Beacon Gray can do wonders on the back wall of a white shelf or bookcase in a neutral room. Play around a little to find a combination that is aesthetically pleasing to you and take a little risk. If painting feels like too large a commitment, start with peel and stick wallpaper. Since it is removable it's a low-commitment style choice.
Loose rule 3: Make sure colors and textures are complementary to one another, without competing. Start with three or so different colors and textures and see how it feels. Right now, white ceramics, faux foliage, and gold accents are getting their fifteen minutes of fame. You could mix it up a bit and throw in some wood tones too if you are really feeling wild.
Loose rule 4: Don't forget the greenery! A great way to cheer up a space and bring a little life to it is with live (or faux) plants. Pot the plants in colors and textures that will work with your theme and watch those shelves develop a personality of their own.
Loose rule 5: Play with different heights. A popular way to add some height is to stack two to three books of a similar color. A framed photo or plant perched atop a stack of all-white books is sure to please on an open shelf. Other items that can add some vertical interest are footed cake plates. Don't be afraid to get creative.
Loose rule 6: Less is more. Style your shelving and then remove 20% of the items you included to create some breathing room. After that, remove another 20%. Most images that you will find in style magazines and pinned on Pinterest show fairly sparse-looking shelves and, you know what? They look fantastic! Fight that urge to showcase all of your worldly possessions in one place. Again, less is more. Happy styling!