It's no secret that baking is a science, and a finicky one at that. Here are a few tips to make the whole thing a little easier.
Read your recipe from start to finish, then, and most importantly, read your recipe from the end to the beginning. This way not only do you have every ingredient you need, but you're also aware of the baking and cooling process, you know exactly what tools you need, and this will eliminate any surprises along the way.
Baking can be sticky and a lot of recipes call for ingredients such as maple syrup, honey, peanut butter, etc. and this typically results in sticky measuring cups or spoons. To at least mostly avoid this issue, coat your measuring cups and spoons in a light layer of olive oil.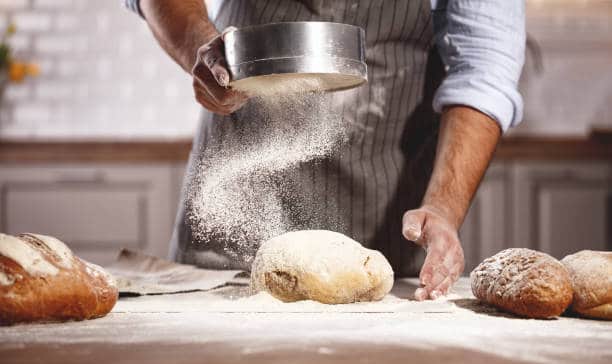 If your recipe calls for eggs, go ahead and set them out about 30 minutes before you make your dough. Using eggs that are at room temperature will guarantee that your batter stays light and fluffy.
The next time you're rolling out a pie crust, cool off your countertops beforehand. You can do this easily and quickly by filling a gallon Ziploc bag with ice and a little bit of cold water, then lay the bag flat on the countertop until it's chilled. A cold counter will prevent your pie crust dough from sticking to your countertop.
Have you ever gone to cut a baked good and it just kind of squishes down? Next time use some unflavored dental floss to cut right through it and squished dough will be a thing of the past.
Before you toss that cake in the oven to bake it, drop it on the counter a few times to get the air bubbles out. Doing this also promises an evenly baked cake every tie.
And lastly, let's go over a few baking substitutes that could really save you in a pinch:
To replace eggs you can use 1/2 of a medium banana, 1/4 cup of applesauce, 3 1/2 tablespoons of gelatin blend, or 1 tablespoon of flaxseeds mixed with 3 tablespoons of warm water for every egg needed. 
To replace baking powder mix 1/4 of a teaspoon of baking soda with 1/2 a teaspoon of cream of tartar or 1/3 cup of molasses.
To replace pumpkin pie spice (because let's face it, it gets scarce!) mix together 3 tablespoons ground cinnamon, 2 teaspoons ground ginger, 2 teaspoons ground nutmeg, 1 1/2 teaspoons ground allspice, and 1 1/2 teaspoons ground cloves.
To replace butter use 1/2 cup applesauce, 3/4 cup vegetable oil, 1 cup avocado, 1/2 cup Greek yogurt, or 3/4 cup olive oil.