It is officially the week of Thanksgiving which means if we aren't sitting down and eating a massive meal, we are in fact, either on our way to being served a massive meal or prepping for one. But in between the get-togethers and all the food prep, everyone has to eat. And we don't know about you, but we aren't trying to get out in the cold to go to a crowded restaurant either. Here are a few 30-minute meals to help you get through the holidays. Not only do these meals take practically no time at all, but they require only a few ingredients and even fewer utensils. Let's take a look!
Beef and Broccoli Ramen Stir Fry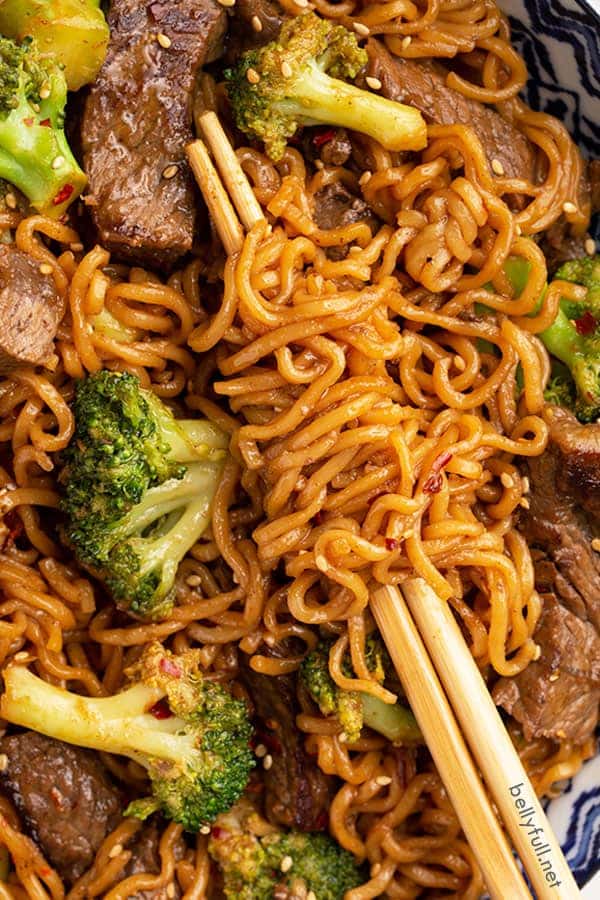 This dish has all the flavor of Chinese take-out, but no wait time, no delivery fee, and you control the ingredients. Not only is this a quick and easy dinner that will fill everyone up, but the leftovers are just as good the next day for lunch. We like to pack in the veggies so we typically add mushrooms and corn to our stir fry, but there is no wrong way to do Ramen stir fry. Check out this recipe from Belly Full!
Ingredients
Sauce
1/4 cup low-sodium soy sauce
1 tablespoon cornstarch
1/3 cup beef broth
2 tablespoons honey
2 tablespoons hoisin sauce
1 tablespoon rice vinegar
1 tablespoon sesame oil
2 cloves garlic , minced
1/2 tablespoon grated ginger
1/8 teaspoon cracked red pepper flakes
Stir Fry
2 (3 ounce) packages ramen noodles , seasoning packets discarded
1 teaspoon sesame oil
2 tablespoons extra-virgin olive oil , divided
1 pound sirloin steak , trimmed of fat and sliced into 1 1/2-inch strips (about 1/4-inch thickness)
1/2 teaspoon kosher salt
1/2 teaspoon ground black pepper
3 cups fresh broccoli florets
1/2 cup water
Sesame seeds, garnish
Instructions
Make the sauce: in a medium bowl, whisk together the soy sauce and cornstarch until combined and no lumps remain. Add in the beef broth, honey, hoisin sauce, rice vinegar, sesame oil, garlic, ginger, cracked red pepper; whisk to incorporate everything. Set aside.
Bring a medium pot of water to boil; cook ramen until just tender, 2-3 minutes. Drain and rinse under cold water to stop them from cooking longer. Drizzle with the 1 teaspoon sesame oil to prevent sticking.
In a large nonstick skillet warm 1 tablespoon of the olive oil over medium-high heat. Once the skillet is glistening hot, season steak with the salt and pepper and add to the skillet. Cook for about 3 minutes, without moving, to allow them to brown well on one side. Then stir and continue to cook for 2 more minutes, until cooked through. Remove the steak from skillet and drain off any accumulated grease.
Add the other tablespoon of olive oil to the skillet, along with the broccoli. Add 1/2 cup of water to the skillet and cover. Steam broccoli for 2 minutes. (Broccoli should be bright green and fork tender, but not mushy.)
Transfer the steak back to the skillet, along with cooked noodles.
Give the sauce a stir and pour into the skillet; using tongs, mix together the ingredients as the sauce cooks. Cook for another 1-2 minutes until everything is coated and warmed through.
Serve immediately, garnished with sesame seeds.
Cheeseburger Casserole
What is better on a cold night than a hot dish of cheeseburger casserole, also known as, homemade Hamburger Helper? We sure don't know. We love this recipe because unlike the boxed stuff, we know with full confidence what we're serving. We like to garnish the top with a little extra fresh parsley, and serve with some warm ciabatta bread. Check out this recipe from The Cozy Cook.
Ingredients
3 ½ cups shredded cheddar cheese, at room temp. Separated.
1 lb. Ground Beef, 85% lean
Salt/Pepper, to taste
1 small yellow onion, diced
2 cloves garlic, minced
2 teaspoons Worcestershire sauce
2 Tablespoon tomato paste
4 cups beef broth
1 (16 oz.) box elbow macaroni, uncooked
¾ cup sour cream, at room temp
½ cup whole milk, at room temp
Chopped Parsley, to garnish
Instructions
Shred the cheese and set it aside. It should be at room temperature when added to the pasta later.
Season the ground beef with desired amount of salt and pepper.
In a large pot over medium heat, cook and crumble the ground beef along with the onions. Drain any excess grease.
Add the minced garlic and cook for an additional minute.
Add the Worcestershire sauce and the tomato paste and stir until well-combined.
Add the beef broth and the uncooked macaroni, stir to combine. Bring to a gentle simmer over medium or medium/low.
Cover the pot and heat for 5 minutes. Uncover, stir briefly, replace the cover, and heat for 5 more minutes, or until just al dente.
Reduce the heat to low.
Stir in the room temperature sour cream and half of the milk. Only add the other half if desired.
Gradually sprinkle in 2 ½ cups of the shredded cheddar, stirring as you do so.
Once the cheese is melted and you have a uniform consistency, top with the remaining cheese.
Replace the lid and heat for an additional 2-3 minutes, until the cheese is melted.
Top with parsley and serve!
Creamy Cajun Chicken Pasta
Even the pickiest of eaters will leave the table fat and happy with this creamy cajun chicken pasta. If chicken isn't really your thing, you can sub in your favorite protein like shrimp or make it a vegetarian dish. We promise anything will taste delicious dipping in this creamy cajun garlic sauce.
Ingredients
8 oz linguine pasta
2 boneless skinless chicken breasts
2 tsp olive oil
2 Tbsp unsalted butter
2 Tbsp cajun seasoning, divided
3 garlic cloves, minced
2/3 cup diced tomatoes
1 1/2 cup heavy whipping cream
1/2 cup grated parmesan cheese
2 Tbsp parsley, finely chopped, to serve
Instructions
Bring a large pot of water to a boil and add 1 Tbsp salt. Cook pasta according to package instructions until al dente. Reserve 1/2 cup of pasta water then drain, cover, and keep warm.
Beat the chicken breasts so that they are even in thickness and season all over with 1½ Tbsp cajun seasoning.
In a large non-reactive skillet*, heat 2 tsp oil over medium-high heat. Once hot, add the chicken and sear on both sides. Turn heat down to low and saute until cooked through and 165˚F on a thermometer. Transfer to a cutting board, slice into thin strips, and cover to keep warm.
In the same skillet over medium heat, saute the butter and garlic for 30-60 seconds or until the garlic is fragrant. Add the diced tomatoes and saute another 2 minutes.
Add in the heavy whipping cream, remaining cajun seasoning, and parmesan cheese, and bring to a simmer. Season to taste if needed.
Add the sliced chicken and cooked pasta to the sauce and toss until combined and pasta and chicken are warmed through. Add warm reserved pasta water if desired to thin the sauce. Serve with freshly grated parmesan and chopped parsley.