We love scouring local shops and thrift stores to find the most unique pieces of jewelry out there. We live for big, colorful wooden beads, pieces of metal cut into interesting shapes to adorn our ears with, and unlikely color combinations. Admittedly, we can't always find exactly what we're looking for, which means sometimes we're left to our own devices, and if you find yourself in this same boat you've probably considered making your own jewelry. Not to start an Etsy shop, not to make any kind of profit, but jewelry-making ensures you can always have what you're on the lookout for, you've always got a handmade gift on hand for friends, and you've got a creative hobby. If you're new to the craft, allow us to help you out with some beginner tips!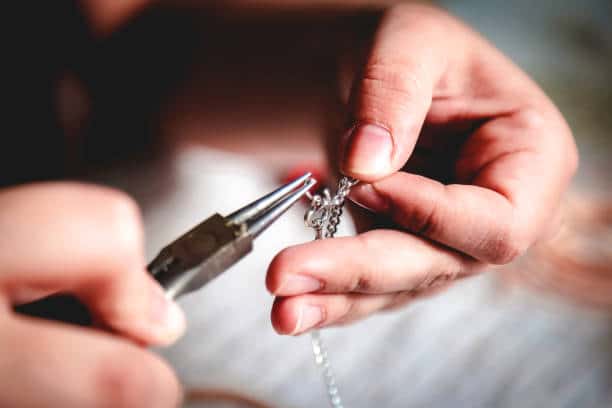 First things first, pick what kind of jewelry you want to start making. Are you sticking to necklaces only? Bracelets? Earrings? Full-on sets? Then think about the style of jewelry you want to make. Do you prefer glass beads? Hemp braiding? Wood? Quirky bobbles? Choose one to focus on so you don't overwhelm yourself from the start. We promise that the more you do it, you'll be inclined to branch out, try new things, and expand your materials. (Yes, you'll need an entire craft room very soon!)
Master the basics and allow yourself to be a beginner as you do so. Beads will spill, loops will feel tricky, and it will probably look like a kid made these pieces at day camp, but allowing yourself to be a beginner means you don't get frustrated with the process and enjoy all of the (many) victories. You'll be an old pro in no time.
Invest in good tools rather than taking the cheap route or borrowing tools. Do your research because there are some great deals on Amazon, and craft stores often have incredible sales. Once you have the tools, you shouldn't have to replace them in the near future and you'll be able to make any jewelry your little creative heart desires.
Do your research, watch YouTube videos, and read articles before you start making anything. This will allow you to understand how everything works and get the lingo down before you begin.
Start gathering your supplies and organize your space as you go. You don't need an entire room (yet!) but having a designated workspace with a little organization does wonders for your work ethic and creativity. 
Start gathering inspiration from Pinterest, Etsy, and jewelry you've bought in the past. If you live in a community that offers local jewelry-making classes or you have the opportunity to take a class online, strongly consider it. This is a great intro to jewelry making from an old professional. (Old as in wise, just be clarify!)