We are Starbucks girlies through and through, but we also have can't justify lots of sugar and fat every morning because we're also healthy girlies. But have no fear, a drink from Starbies that is on the lower calorie side with less fat and sugar is totally possible and we're going to fill you in on our favorites. 
Iced Brown Sugar Oatmilk Shaken Espresso
This first drink is for our iced coffee lovers. You can't go wrong with shaken espresso, brown sugar syrup, oat milk, and cinnamon, the flavors are just unmatched. And at just 90 calories for a tall and still under 200 calories for a venti, this is a sweet treat you can afford to indulge in. Major bonus? This drink is vegan and gives you a major caffeine surge to help you power through your day.
Skinny Vanilla Latte
An espresso-based drink with steamed milk, frothed milk, and a ribbon of vanilla makes for the perfect pick-me-up if you're craving something on the sweeter side. A tall comes in at about 100 calories and gives you that afternoon boost you need some days.
Caramel Frappuccino Light
If it's a blended beverage you're after, this light caramel frap is made with blended ice, nonfat milk, coffee, and caramel syrup. If caramel isn't your thing, most frappuccinos can be ordered light, your barista will just use non-fat milk, sugar-free syrup, and no whipped cream. A tall is only 100 calories and is completely fat-free.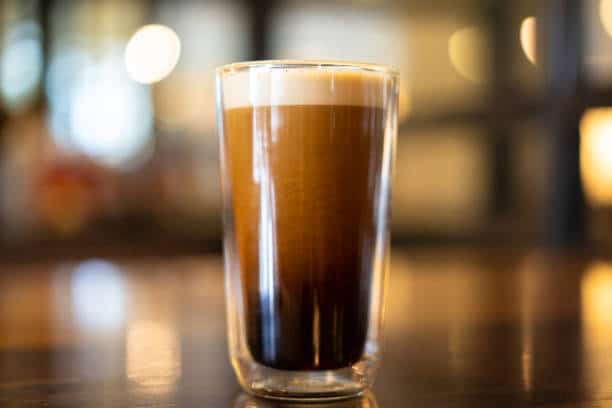 Caffe Misto
This drink is our fans of lattes, minus the foam on top. Rather than espresso, steamed milk, and foamed milk on top, a caffe misto has a 1:1 ratio of hot coffee (instead of espresso) and steamed milk. So all of the goodness, and none of the foam. A tall has 80 calories, but you can shave a few more off by ordering your caffe misto with a lighter milk.
Nitro Cold Brew
Here is another drink for our cold brew lovers, only a little different than your average cold brew. Nitro cold brew is infused with nitrogen when it's being poured so the texture is somewhat creamier. With no milk, cream, syrup, or sugar this drink clocks in at 0 grams of fat and only 5 calories.
Cafe Mocha
This drink is going to have a few more calories than the drinks we've discussed, but still significantly lower than most drinks at Starbucks, especially if you're craving chocolate. A non-fat cafe mocha combines espresso, mocha syrup, and steamed milk, you'll just swap the low-fat milk for non-fat and ditch the whipped cream. A tall will come in at around 190 calories.