It's gardening time or thereabouts for most of us which means soon we'll be making multiple trips to our local greenhouses so we can spend our days under the sun, playing in the dirt. If you're like us, then you've probably accumulated a lot of gardening tools and accessories over the years. This year, instead of just throwing them in your garage or shed, here are a few creative and some, dare we say, stylish ways to store everything you need for all of your gardening days.
Wicker Baskets 
If you have a lot of smaller miscellaneous garden tools, consider nabbing a bicycle basket or whatever baskets you have or can find at your local thrift store to hang on the wall of your garage or shed. Just make sure to get one big enough or multiple baskets if you'll need more than one. Don't be afraid to have fun with your baskets and line them with fabric or paint them.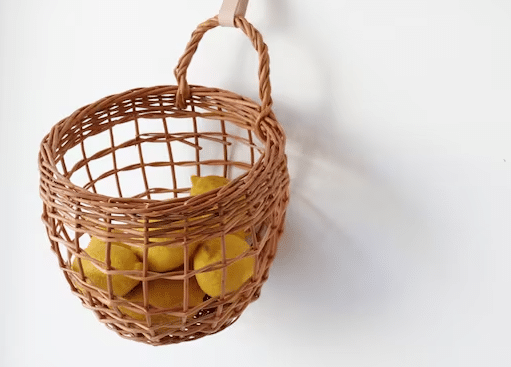 Galvanized Bucket for Your Garden Hose
If you've been gardening for any amount of time, then you've probably fought with the garden hose a time or two. Solve this problem simply by hanging a galvanized bucket to wrap your hose around. Any bucket will do, but we love one with some patina.
Some Kind of Store-All
Whether this is a vintage milk bottle carrier, a shower caddy, or an old metal lunchbox, sometimes just having a compartmentalized caddy is all you need to stay organized. You can easily create different compartments with small pots, mason jars, or whatever else you've got lying around.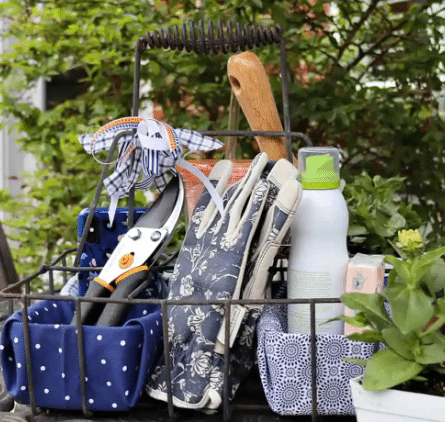 Rusty Old Rake 
If you've got an old, busted rake lying around, put it to good use and upcycle it. Remove the handle, hang the rake on your wall space, then use it for storing larger tools. This is another simple way to either add color to your space by painting the old rake or add some rustic charm by keeping it as it is.
Mailbox
This one might require a little thrift store hunting, but if you can nab an old mailbox, they make for great gardening tool storage. You can opt to hang this in a shed, keep it in your garage, or you can hang it in your garden and give your garden eclectic vibes. 
Clay Pots
If you've got old clay pots you no longer use for one reason or another, fill them with sand and store your garden tools. Again, you can have fun and paint old pots or keep them as they are for a natural look.