Admittedly our idea of a good time is going to Target, getting a seasonal Starbucks drink, and going up and down our favorite aisles, one of which is the notorious candle aisle. But the thing with candles is most of them release carcinogenic toxins into the air while being burned, in fact, emissions from paraffin candles contain a number of the same toxins as diesel fuel produces when burning. So while we love that our house can smell like a pumpkin latte marshmallow in a forest on a cool fall day, there are alternatives that can smell up our homes just as well without all the yucky chemicals, which brings us to today's topic of fall simmer pots.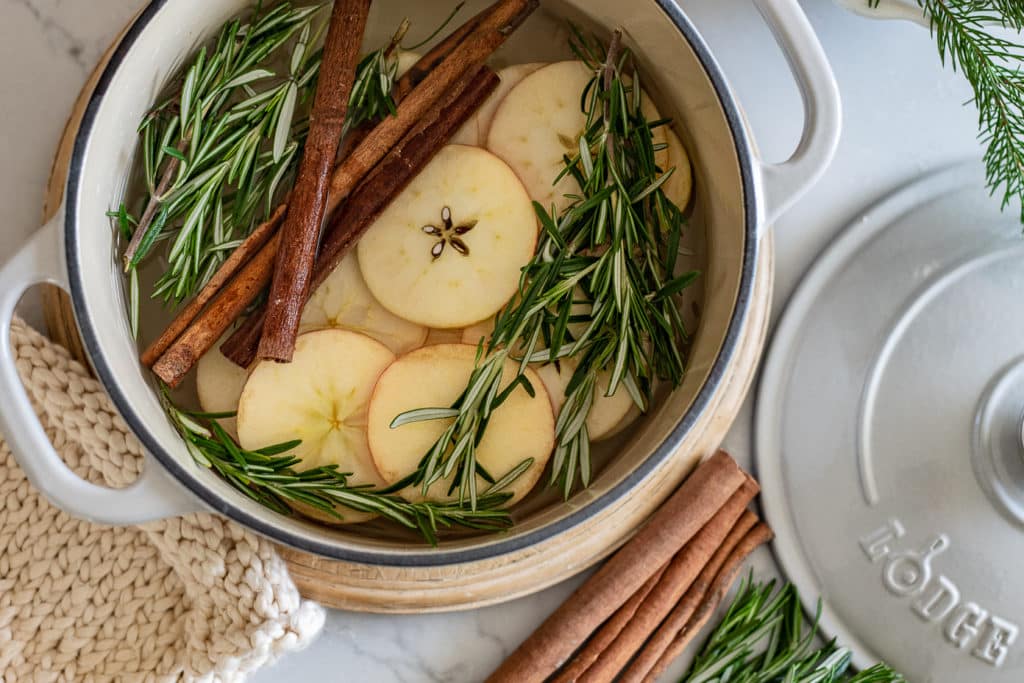 What is a simmer pot exactly? There's a good chance you've come across one on TikTok, but the whole idea is that you simmer real ingredients such as cinnamon and various citrus fruits, among other smelly good things, in a pot of water on your stove and allow those aromas to fill your home safely and chemical-free.
What's the process? As long as you have the ingredients, creating a simmer pot is super simple. All you have to do is fill a saucepan with water and bring that to a boil, add the ingredients, allow all of that to boil for a few minutes, then turn the heat down to a simmer and enjoy the smells. Our only tip is to check the water about every 30 minutes and keep adding water as needed to keep the pot about halfway full. Okay, let's get to the recipes, here are three of our favorites for fall.
Bay Leaf Simmer Pot 
What you'll need:
5 bay leaves
1 TB whole cloves
2 sticks cinnamon
This is a pretty classic fall-scented simmer pot that you can't go wrong with, and the best part about a simmer pot is that you can go hard on the ingredients you love most. (It's the cloves for us!)
Cold Fighting Simmer Pot
What you'll need:
5 orange slices
1 TB whole cloves
1 tsp dried rosemary
2 cinnamon sticks
5 drops of eucalyptus essential oil or a few sprigs of fresh eucalyptus
The only downfall to the cooler weather is dealing with colds and the dreaded flu. This simmer pot is comforting and soothing, so if you find yourself with the sniffles, we recommend giving this a try and if you're really struggling, stand over the pot and breathe the steam in.
Pumpkin Spice Simmer Pot
What you'll need:
4 TB apple cider
A generous sprinkle of pumpkin spice seasoning
Cinnamon sticks
Ground nutmeg
A drop of vanilla extract
Whole cloves
Oh, come on, you know we had to.